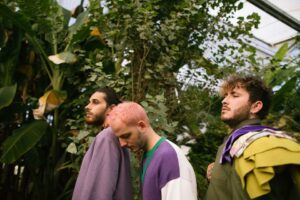 Inude è l'unione profonda delle tre anime musicali di Flavio, Francesco e Giacomo che hanno dato vita ad un'elettronica calda, dalle tonalità soul e romantiche. 
Nel 2016 pubblicano il loro primo Ep "Love Is In the Eyes Of the Animals" che, nonostante i soli 4 brani, da cui verranno estratti i singoli "Man Down" e "Hudea", arriveranno ad avere un tour che li terrà impegnati in Italia e all'estero fino alla metà del 2017, condividendo i palchi con artisti di rilievo nazionale ed internazionale e contando più di 100 concerti in poco più di 12 mesi.
Finito il lungo tour, intraprendono un percorso emotivo ed artistico in una villetta tra le colline Marchigiane tra Pesaro e Urbino e i Posada Negro Studios di Lecce; percorso che li ha portati due anni più tardi ad avere in mano il loro primo LP "Clara Tesla", pubblicato il 5 Dicembre 2019 per Oyez! e da cui sono stati estratti i singoli "By The Ocean", "Sleep", "So Easy", "Shadow of a Gun".
Gli Inude sono tornati in scena con i nuovi singoli "We Share" e "Ballad1"; che anticipano l'uscita del nuovo album in autunno 2021 e un nuovo live estivo.
PREVENDITE BIGLIETTI SU DICE