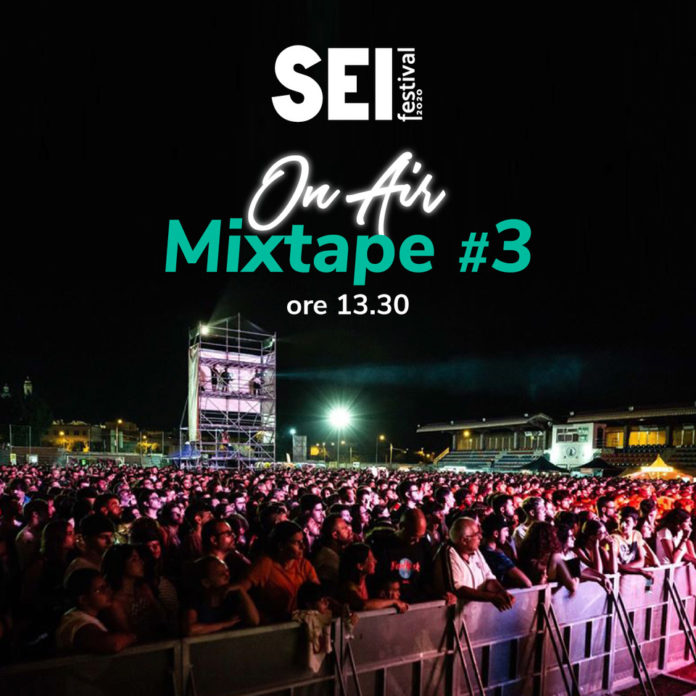 Riascolta il podcast del Radio Mixtape 3: The Best Of SEI Festival!
La musica del SEI Festival torna in radio.
La XIV edizione del Sud Est Indipendente è alle porte e inaugurerà sabato 18 luglio col live degli Inude. Nel frattempo continuiamo la nostra serie di mixtape radiofonici con uno storytelling musicale delle 14 edizioni del SEI Festival.
Abbiamo chiesto ai cinque organizzatori veterani – il Direttore Artistico Cesare Liaci, Pierpaolo Lala, Osvaldo Piliego, Antonietta Rosato e Toni Nisi– di raccontarci il loro Sud Est Indipendente attraverso alcune delle canzoni che ne sono state protagoniste e che potrete ascoltare lunedì 13 luglio alle 13.30 su Radiosonar, Radio Wau e Radio La Ruota.
Da Brunori Sas ai Kings Of Convenience, dagli Afterhours a Daniele Silvestri fino a Mannarino – scelto in condivisione da tutto lo staff – abbiamo ripercorso la storia del SEI Festival in 14 brani, concedendoci una bonus track: quella di Lee Ranaldo – chitarrista e fondatore dei Sonic Youth – protagonista della residenza artistica #ReSound nel 2019.
Un tuffo nel passato per proiettarci nel futuro: la XIV edizione del SEI Festival sta arrivando!
TRACKLIST
Brunori Sas – Come stai (Vol.1, 2009, Universal Music Italia) – Pierpaolo, SEI 2014
2) Kings Of Convenience – Misread (Riot on an Empty Street, 2004, EMI) – Cesare, SEI 2013
3) Baustelle – La guerra è finita(La malavita, 2005, Warner) – Pierpaolo, SEI 2006
4) Afterhours – Ballata per la mia piccola iena (Ballate per piccole iene, 2005, Mescal) – Osvaldo, SEI 2014
5) Peter Hook & The Light – Love will tear us apart (Love will tear us apart, 1980, Rhino Entertainment) – Antonietta, SEI 2016
6) One Dimensional Man – Don't Leave Me Alone (You Don't Exist, 2018, La Tempesta) – Toni, SEI 2011
7) The Jon Spencer Blues Explosion – Bellbottoms (Orange, 1994, Matador Records) – Osvaldo, SEI 2011
8) Ministri – Noi fuori (Fuori, 2010, Universal Music Group) – Toni, SEI 2016
9) Il Teatro degli Orrori – A sangue freddo (A sangue freddo, 2019, La Tempesta) – Antonietta, SEI 2011
10) Daniele Silvestri – Le cose in comune (Prima di essere un uomo, 1995, Dischi Ricordi) – Pierpaolo, SEI 2012
11) Cat Power – Lived In Bars (The Greatest, 2006, Matador Records) – Antonietta, SEI 2014
12) Franco126 ft. Tommaso Paradiso – Stanza singola (Stanza Singola, 2019, Bomba Dischi) – Cesare, SEI 2019
13) Mannarino – Elisir d'amor (Bar della rabbia, 2009, Universal Music) – Staff, SEI 2012
14) Tre Allegri Ragazzi Morti – Occhi Bassi (Mostri e normali, 1999, BMG Ricordi) – Cesare, SEI 2012
Bonus Track) Lee Ranaldo– Lecce, Leaving (Last Night On Earth, 2013, Matador Records) – Osvaldo, SEI 2019
SEI – Sud Est Indipendente Festival
Il Sei Festival – uno tra i più importanti nell'agenda musicale di tutto il sud Italia – è realizzato con il sostegno del Fus – Fondo Unico per lo spettacolo del Mibac e della Regione Puglia. Dal 2006 ha portato nel Salento le sonorità più interessanti della musica italiana e internazionale, offrendo al pubblico una panoramica ampia e variegata della musica dal punk al cantautorato, dal rock allo ska, dal folk ai ritmi in levare. Il SEI Festival ha saputo resistere anche a questo difficile 2020 e riproporrà i suoi concerti live al Castello Volante di Corigliano d'Otranto a partire dal 18 luglio.
CONTATTI
SITO: https://www.seifestival.it/
INSTAGRAM: https://www.instagram.com/seifestival/
FACEBOOK: https://www.facebook.com/SeiFestival/
YOUTUBE: https://www.youtube.com/channel/UC9VwxuRIeNzDt-cqmxkdHBg
SPOTIFY: https://spoti.fi/3eghvqz
MAIL: info@seifestival.it