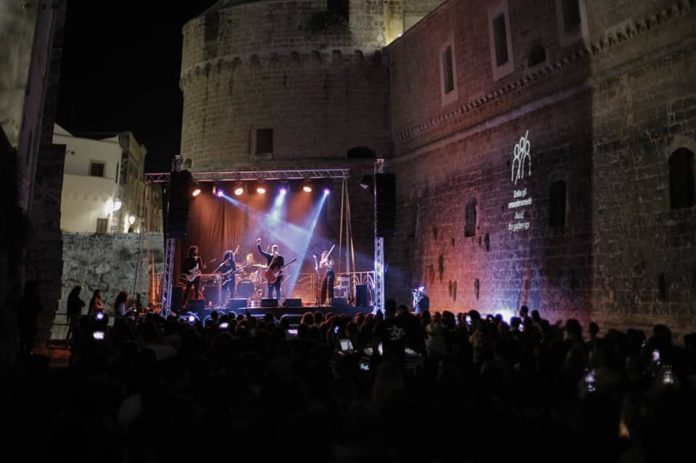 Seconda puntata di Sei In Radio, podcast che raccoglie storie, appuntamenti, interviste, aneddoti e retroscena del SEI Festival 2020.
ASCOLTALO QUI
In questo episodio Cristiana, Jacopo e Luca presentano le serate dei Giardini di Mirò (30 luglio) e Motta (2 agosto nell'ambito della rassegna SEI Young) al Castello Volante di Corigliano d'Otranto (Le) e ci svelano alcuni dietro le quinte dei concerti di Inude, Les Contes d'Alfonsina e La Municipàl anche grazie ai contributi raccolti dallo staff di Radio WAU.
Chiacchiere, informazioni, risate e tanta musica per vivere questa XIV edizione del Sud Est Indipendente Festival anche insieme ai nostri partner Vestas Travel, Vini Garofano e Ferrovie SudEst (vettore ufficiale) e media partner (Radiosonar, Radio Wau, Le Rane, Sei Tutto l'Indie Di Cui Ho Bisogno, Alpaca Music e RKO).
TRACKLIST SEI IN RADIO #2
Artista – Titolo (Album, Etichetta, Anno)
1) Erica Mou – Al Freddo (Bandiera Sulla Luna, Godzillamarket, 2017)
2) Lucio Corsi – Cosa Faremo Da Grandi (Cosa Faremo Da Grandi?, Sugar, 2020)
3) Redi Hasa e Maria Mazzotta – Contine (Novilunio, Ponderosa Music & Art, 2018)
4) La Municipàl – Italian Polaroid (Bellissimi Difetti, Iuovo, 2019)
5) Giardini Di Mirò – A New Start For Swimming Shoes (Rise And Fall Of Academic Drifting, Homesleep Records, 2016)
6) Giardini Di Mirò – La Vampa XX (Il Fuoco, Unhip Records, 2009)
7) Motta – Per Amore E Basta (Vivere O Morire, Sugar, 2018)
8) Motta – Dov'è L'Italia (Universal Music, 2019)
9) Vinicio Capossela – Contrada Chiavicone (Il Ballo Di San Vito, Compagnia Generale Del Disco, 1996)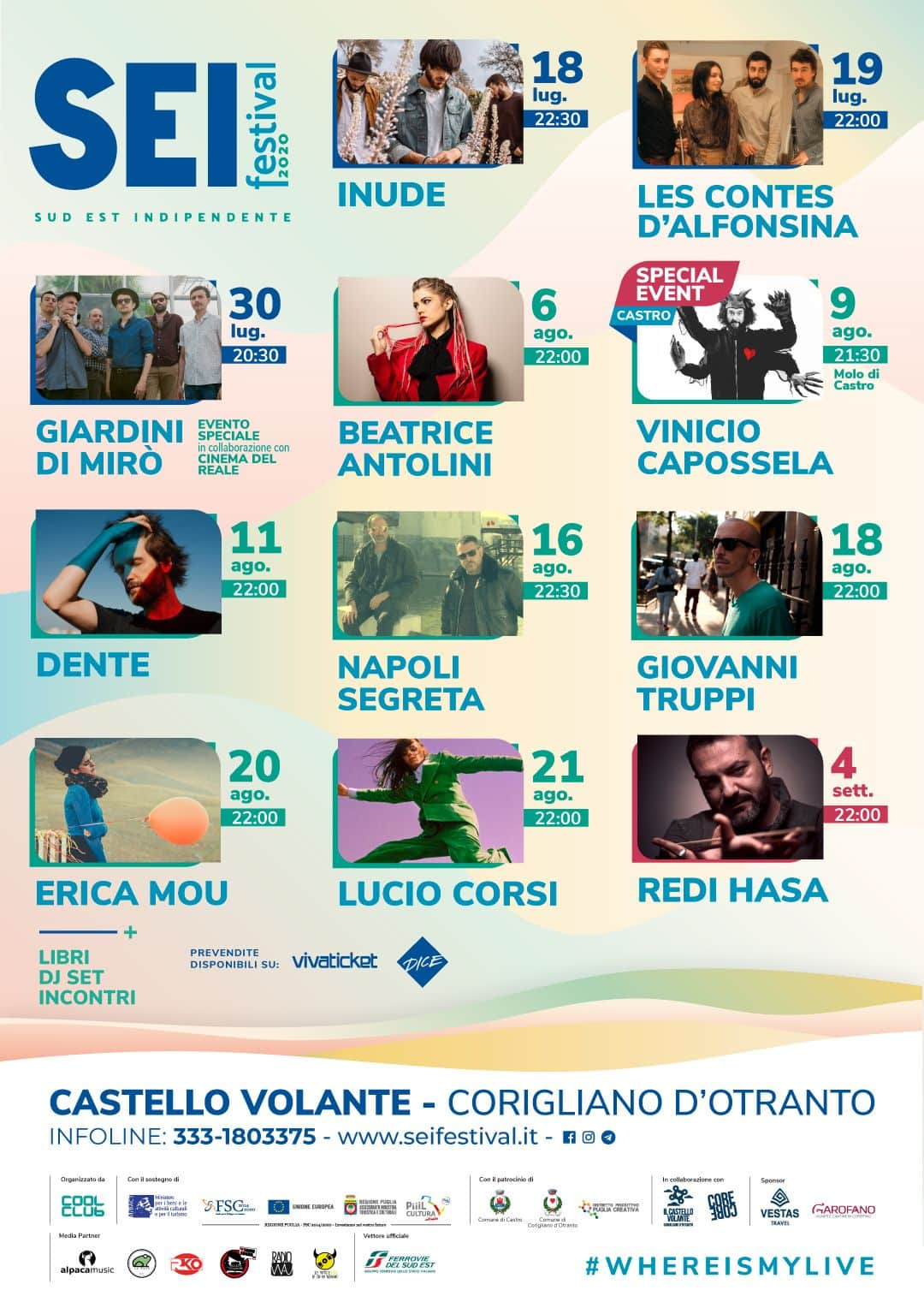 RIASCOLTA TUTTI I PODCAST RADIO DEL SEI FESTIVAL
RADIO MIXTAPE #SEIACASA 1
RADIO MIXTAPE #SEIACASA 2
RADIO MIXTAPE 3: BEST OF SEI
RADIO MIXTAPE 4: SEI FESTIVAL 2020
SEI IN RADIO #1
SEI – Sud Est Indipendente Festival
Il Sei Festival – uno tra i più importanti nell'agenda musicale di tutto il sud Italia – è realizzato dalla cooperativa CoolClub con il sostegno del Fus – Fondo Unico per lo spettacolo del Mibac e della Regione Puglia. Dal 2006 ha portato nel Salento le sonorità più interessanti della musica italiana e internazionale, offrendo al pubblico una panoramica ampia e variegata della musica dal punk al cantautorato, dal rock allo ska, dal folk ai ritmi in levare. Il SEI Festival ha saputo resistere anche a questo difficile 2020 e riproporrà i suoi concerti live al Castello Volante di Corigliano d'Otranto a partire dal 18 luglio.
CONTATTI
SITO: https://www.seifestival.it/
INSTAGRAM: https://www.instagram.com/seifestival/
FACEBOOK: https://www.facebook.com/SeiFestival/
YOUTUBE: https://www.youtube.com/channel/UC9VwxuRIeNzDt-cqmxkdHBg
SPOTIFY: https://spoti.fi/3eghvqz
MAIL: info@seifestival.it